It is common advice that your blog needs to be updated at least once a week to attract search engine visitors. However, many small business owners struggle to see a strong return on investment from their business blog and become disillusioned that search engine optimization is something they can actually accomplish.
Here are five techniques that all small business owners can use to position their blogs in the search engines for maximum exposure and increase visitors who can potentially turn into customers.
Better, Longer Content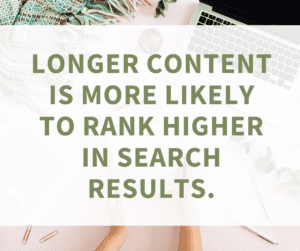 Over 2 million blog posts are created every single day. It is critical to understand the scope of the internet and how much content would be added to Google's search database daily.
After this realization, you may potentially become depressed and start to believe that no one will find your content. All the more reason you need to follow the pointers in this article and adjust your volume strategy so that it is more successful.
Your blog posts are likely to short the rank on the first page of Google as they're written today. Recent data suggests that a position one ranking has over 1,500 words on it.
To make matters worse, Google also cares deeply that the content is not fluffy and actually answers users' inquiries. If you are tempted to become long-winded to create long-form blog posts, think again.
Google has been rewarding long blog posts that are actually helpful to the reader, which means you will need to do deep research on a topic to speak from a position of authority. Publishing fluffy content that is not useful will only hurt your cause as Google is believed to be tracking bounce rates and dwell times in addition to other factors that indicate the content is high quality.
In addition to the quality of the words, you also need to pay attention to the overall user experience on your blog. A graphic design that is difficult to read or repels users is not doing you any favors. Recent trends In design include bigger font, wider line spacing, and the reduction of clutter.
Many blogs no longer have a navigation bar at all. Instead, the trend is for cleaner pages with fewer distractions for the eye that will pull you away from the content that fully answers a search query.
Another trend is the inclusion of graphics at a much higher rate. It is typical that users will see chunks of text separated by graphics that represent key points from that text. If you find that your users need to scroll past paragraphs of words before hitting an image, you are not including enough images and risk losing the reader's interest.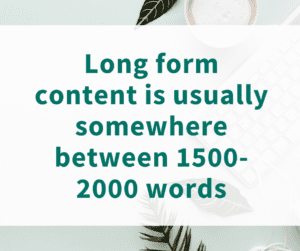 Social Media
Social media is another key component of a successful blog SEO strategy. Your social media presence is important for branding, but many business owners underestimate the value of cross-promotion. A strong social media presence can be used to alert readers of content you are publishing on your blog and pull in an audience eager to consume this content.
Social media influencers are also great promoters of your content since they are eager to fill their profiles with up-to-date information that is useful. The larger your following, the more likely your content will reach the followers of your followers.
Social media is also great for increasing engagement on your blog and filling up comments. You need a real audience to read, digest, and leave feedback on your blog. Comments serve as social proof to other passers-by who are trying to determine if you are a trustworthy source. 
Email Marketing
Email marketing is another channel for content distribution to a friendly audience. Possibly the least leveraged digital marketing tool, email marketing can offer a significant boost to your search engine optimization.
All small business owners should be making a list of email addresses owned by people who would welcome your content. Always use an opt-in strategy and don't buy a list. A high-quality email list functions in a similar fashion to a strong social media presence.
When a blog post is ready to go, you can coordinate your launch with social media and blast your list. As mentioned above, this will accelerate initial audience who is likely to re-share it as well as generate comments as social proof for future visitors to your website.
Backlinks
Even with all of the social media and email marketing activities mentioned above, you should not expect backlinks to your individual pages to be built organically. The notion that you can "build it and they will backlink" is simply not true.
While you might pick up a few backlinks from close friends, you should expect to have to earn your backlinks. And in today's competitive landscape, you need to understand that every single blog post needs to have unique backlinks pointing to it from relevant sources.
It used to be true that an authoritative domain could carry a blog post without specific backlinks to that some page. This is no longer the case. As a result, your ratio of content production to content promotion is probably in need of adjustment. Many experts recommend spending 20% of your available resources on content production and the other 80% on promotion.
In a recent presentation at HubShout, it was recommended that you spend a week generating excellent content and then be prepared to spend one to six months promoting the content. 
Guest Posting
Another terrific way to generate backlinks to your content is the process of guest blog posting. There are two mechanisms that guest posting is very helpful for building a network of people in your vertical.
The first approach is to allow others to guest post on your website. It is typical when doing so to allow them to put in editorial links to other reputable sources, including to their own website. The reason for this is that they are generating excellent content that will help your website and often participate in the discussion in comments and share the content on their social media. While you will not earn a backlink from the strategy, it does form an excellent relationship and that networking will be important when you move to phase two of guest posting.
The second approach to guest blog posting is to ask others if you can contribute a guest editorial piece on their website. As you post this content, which should be well-researched, you can include backlinks, which will help support your rankings and promote other content that is cross-promotional for both of you.
If you pursue guest posting for a significant amount of time, you will find that your network of contacts is growing and other marketing opportunities will emerge, which is excellent for your brand.
Conclusions
Many small business owners are frustrated that their business blog does not generate the customer leads they were hoping for from search engine optimization. Five simple steps will help turn the situation around.
They need to consider writing longer, better researched, and attractively designed content that readers actually want to read. Coordinating the launch of their content with social media and email marketing lists is an excellent way to prime the pump and bring it immediately to an audience who will leave comments as social proof of quality. Finally, the coordinated backlink building strategy and guest posting campaign will build the relationships needed to ensure every blog post has backlinks and will rank.